Eoin is a fully qualified cycling skills instructor under the recently launched Cycle Right programme https://t.co/aHW3Emflwr . This is a National Cycle Training Standard administered by Cycling Ireland with support from the RSA, the Department of Transport, Tourism and Sport.  The programme is aimed at primary school children from 4th to 6th class age groups. Training takes place in the classroom, school yard and also an on road component over a period of 8 hours. Funding is available so please get in touch for more details. High quality training from fully qualified and accredited instructors will develop competent and confident cyclists who have the skills to safely manage all road and traffic conditions. Children can use their own bike if it is in good working order with two working brakes, etc. or they can use one of DoctorBike's fleet of well maintained bicycles. Adults must provide their own bike, again in good working order. All trainees must wear helmets and the Doctor can provide children's helmets but adults must provide their own.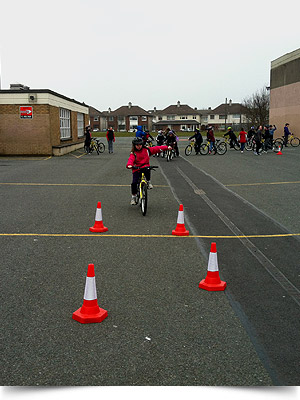 Fully qualified instructor – Cycle Right National Standard Cycle Training (IRE).

Fully insured.

Cycle Right approved training provider.

Fully Garda vetted and participated in the Irish Sports Council Child Protection in Sport workshop.

Instructor has over 30 years experience racing and cycling bicycles in Europe, Australia and USA.

8 hours tuition. One or two hours per week conducted on school premises or suitable open space along with some on road tuition if suitable.

Helmets compulsory.

Children may use their own bike and helmet if suitable or use a bicycle and helmet supplied.

Funding available.
Please call Eoin on 087 9758056 or email eoin@doctorbike.ie.